Custom Kydex Holsters
Hand pressed in-store to fit your pistol perfectly! We stock inventory for common pistol models such as G19's and M&P 9's, or have your own custom holster made just for you in any color or pattern!
Don't want to wait 4-8 weeks for your holster?
We can't blame you! Many other custom Kydex holster makers are running up to a two month lead time, but here at Maxon we can get your holster made for you in just 3-5 days!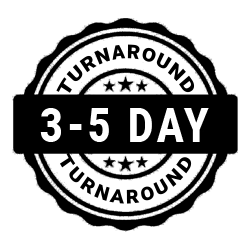 Kydex® is a thermoplastic acrylic-polyvinyl chloride material manufactured by Kydex, LLC. It has a wide variety of applications including firearm holsters and knife sheaths. The material is also widely used in the aircraft and medical industries. For holster applications it proves to be an excellent alternative to leather holsters. Advantages include a low friction, waterproof, scratch resistant finish with a Rockwell "R" hardness of 90. Kydex® holds it shape better than nylon and leather and will not stretch or shrink under normal conditions.
Safe & Secure Fit
Ensure correct retention of your pistol in the holster with our staff at the time of pick up. Some fine tuning may be needed, so be sure to give yourself a few extra minutes of time for picking up your order.

Matte Black G19
OWB | Right handed

Glock 19

1.5" Belt Loops

Matte Black P365
IWB | Right handed

Sig P365

1.5" Belt Loops

Matte Black G43
IWB | Right handed

Glock 43

1.5" Belt Loops

Matte Black Hellcat
IWB | Right handed

Springfield Hellcat

1.5" Belt Loops