We offer private instruction by the hour so you can get the training you are looking for, at a speed you are comfortable with.
We offer firearm training classes that cover numerous in-depth topics, but we can't cover everything in our group classes. And not everyone learns best in a crowded classroom setting, sometimes a more personal one-to-one approach is just better.

What Gun is Really the Right One for You, Before You Buy


Care & Cleaning of Firearms


Defensive Gun Considerations
A FOID card is NOT required
Cost:
$50
1 Person

$60
2 People

$70
3 People

Per Hour +
This includes your range reservation, and instructor fee.
IT DOES NOT INCLUDE RANGE FEES, TARGETS, HEARING & EYE PROTECTION, USE OF RENTAL GUNS, OR AMMO
You can select these options to be added to your cart when you sign up, if you are not providing your own, except ammo because that must be purchased at the time of your appointment and pricing varies by caliber.
Requirements
You must be over 18. Children and anyone under 18 must have a parent or legal guardian on premises.

You must have a valid FOID, state ID, passport, or driver's license with you.

You must have at least a basic understanding of English for safety reasons.
Our certified instructors are trained to tailor each appointment to your individual needs
So whether you are a total noob, or a seasoned veteran, we can help you work on the specific skills you are looking to develop. Most appointments start off with going over the basic safety rules, and any questions you may have, in the classroom. Then we head out onto the range and get to the fun part!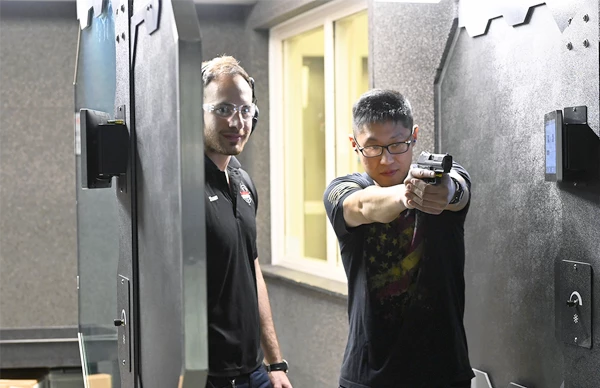 Why should you train with us?
Next Steps in Your Training