Gear Review: Galco King Tuck Holster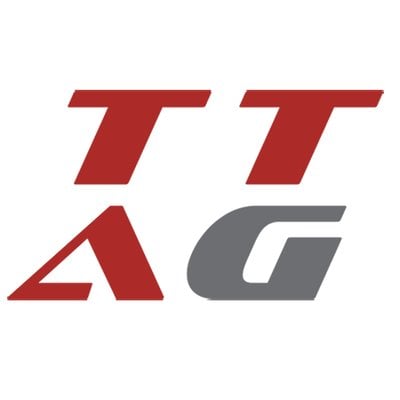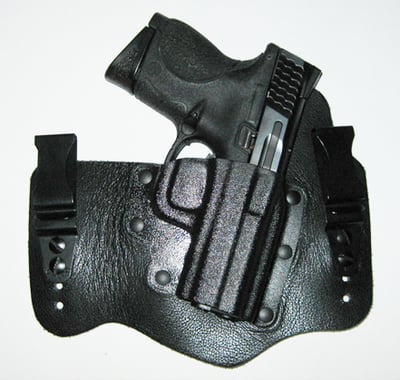 "Untuck your shirt and put a man's gun on your hip. Done."
said Robert Farago through teeth clenching a massive Honduran cigar stub. I was trying to explain why I preferred a pocket pistol over an inside the waistband holster or similar rig. I simply look better wearing my shirts tucked in. He was was utterly unsympathetic to my dress preferences. I own a Smith M&P Compact .40 – nicknamed "Carmen" - a wonderful shooter with which I can put five rounds through a silver dollar at "one inch further and it's murder" distance. How could I carry this concealed without the sloppy untucked shirt that makes me look like some shapeless lummox?
On a visit to Ultimate Defense with my Taurus 609 I came across the Galco "King Tuck" holster. This inside-the-waistband rig had a set of belt clips designed to allow the shirt to tuck down between the gun and your britches. I secured one for my beloved Carmen and gave it a tryout.
I have a love/hate relationship with holsters. I love that they allow you to carry your firearm safely. I hate that they are expensive and that you have to pony up BEFORE you know how well it's going to work out. It is hard enough to find the right holster that fits your gun, fits your body and is concealable in a way that matches your lifestyle.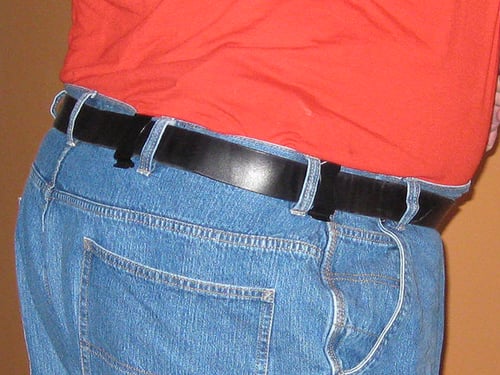 The fact that I ended up buying a special gun to use for pocket carry testifies to how much of a pain in the ass it is to find a "just right" holster, even for a relatively compact firearm. Packing a heater responsibly really does impact your lifestyle in ways someone new to the world of concealed carry does not anticipate.
The Galco King Tuck holds your gat in place with a molded Kydex piece riveted in place on the leather.
The molded Kydex covers the trigger, protecting it from anything coming in contact with it. The "King Tuck" holster is very well made. You can adjust how far into your waistband the gun will ride. The spring steel belt clips are sturdy, but aren't so stiff that they are a headache to put on or remove. The holster also comes with plastic clips that are suited for a narrower dress belts.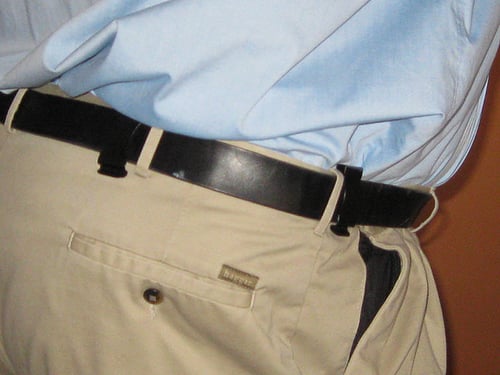 A quick note on belts; carrying a larger firearm means you need a nice, snug one.
"Pleather" is not a great option here because of its stretchiness. Your belt needs to cinch up over a pound of metal and lead and keep it snug against your body. The gun and holster will also add a bit to your overall diameter. If your belt is already riding on the overloads, you may need to invest in a quality belt to accommodate the extra inch or two of girth that sweet heater adds.
The Galco catalog helpfully provides a diagram indicating where the holster is supposed to ride. I clipped the rig so that it begins just before the seam of my trousers. Depending on the pants you wear, you may have to adjust the position fore or aft to keep the steel clips from covering a belt loop. I found that an inch or so didn't make much difference in comfort.
It was fairly simple to put my weapon into the holster, then open up my pants and clip the gun and holster. I decided to do this because I was a little nervous about tucking my particular weapon into the holster. Carmen's go-pedal has no safety, and I was concerned that working it into the molded Kydex was more risk of a negligent discharge than I was willing to take. Once in position, I just hike my pants over my shirt, button and zip.
Once my pants are buttoned, I take the fabric of my shirt back where the weapon is. I pull out a little and stuff it between the waistband and the holster. It takes a little practice, but this process is what convinced me to holster the gun while the rig is outside my pants. I want to make sure the piece is firmly and securely placed in the holster with the trigger protected, lest I blow some meat off of my leg tucking in my shirt.
With practice in a mirror, you can do a good job of making your piece disappear, save for the lump on your hip. A takeaway lesson is to select a shirt of medium length. One of my usual "big and tall" shirts was simply too long to inconspicuously tuck into the space made by the holster. The final step for me is cinching up my belt to keep it all nice and snug.
I wore the holster around the office and out and about for several days.
Candidly, it felt like a big lump of metal was hanging off my hip. Not really uncomfortable, but not exactly unnoticed, either. The cowhide is soft enough against my skin and it started to conform to my shape (round) in just a few days of carrying it.
The holster stays in place just great. I wore it while doing chores around the house. I figured I could give it a real workout if I wore it while cleaning out the upstairs bathroom. Stooping to clean The Judge (our vintage toilet – the flush tank is so large that owning one is a felony in California) bending over to scrub the tub, none of these tasks were enough to dislodge it from my hip, or even shift it very much. Walking around the city in dress slacks, I found myself pulling up my pants from time to time, but this was no more than I normally would have.
The next test: drawing the unloaded Carmen from my hip. I was able to get the piece out with a quick little jerk. Holstering the gun unloaded convinced me that I should not holster a loaded piece. As I alluded to before, the gap between my britches and belt and the holster seems narrow and I had trouble hitting the square hole at just the right angle. At the wrong angle, the slide would be pushed out of battery.
I'm unwilling to learn if anything dangerous would be pushed, as Carmen has no safety but the one between my ears. Other holsters I've used created more of a funnel than this one does. I may get better at it with more practice, but Robert (and YouTube) has made me paranoid about negligent discharges.
Tucked in, the piece is well concealed.
Inevitably you will see a lump, and I can't imagine how a law enforcement officer would not know exactly what it is if they observed it and cared to take a second look. I fidgeted a bit while wearing it, checking from time to time to make sure my shirt hadn't been caught underneath the grip of my pistol. Overall, the concealment is enough not to spook my fellow citizens. Mission accomplished.
The Galco King Tuck holster is a great rig to use if you do not want to wear a jacket to conceal your firearm. MSRP is about $70. It's comfortable and secure. I'd be wary of re-holstering and practice drawing with the shirt is both tucked in and untucked. In all candor, if I found myself in a gunfight, I would rather draw Carmen than my DB9.
RATINGS (out of five stars)
Comfort * * * *
It seems to me to be as comfortable as cramming nearly two pounds of steel, lead and brass in you britches can be.
Ergonomics * * ½
This may just be me, I did not think holstering this was all that easy. Drawing is fine, but getting tucked will require developing a technique. It did not seem fair to ding the product for the tucking portion – I can't really see how they could do it any better.
Reliability ????
I have not used the holster long enough to have an opinion on durability or reliability. I do have some experience in leather craft and this looks well-built.
Customizable * * *
You can adjust for depth of carry. The Kydex is molded for specific models of guns and right or left hand.
Carry * * * *
Had no problem carrying with this rig.
Overall Rating * * * ½
This is a high-quality holster at a fair price that allows you to carry with your shirt tucked in. It's a little challenging to get all hitched up, and it calls for some practice to use.