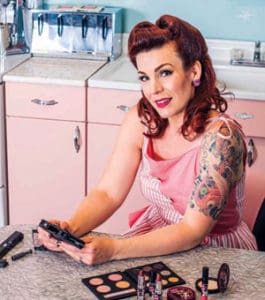 That's right! Our very own Pistol Training Instructor Jessica Sabin!
If you have taken our Basic Pistol Training Level 1 or Level 2 class, then you have almost certainly met Jessica. Jessica has been the lead pistol training instructor at Maxon for many years now, and has been around since the beginning of our Des Plaines location. You can read more here about how we got started in Des Plaines, and how Jessica flawlessly blends guns and rouge below in the October issue of USCCA's Concealed Carry Magazine! Article by Beth Alcazar.
If you are interested in taking a class from Jessica her next upcoming Basic Pistol 1 class is this Sunday Feb. 24th
---
Basic Pistol Training Level 1 and Level 2 Testimonials
"As an instructor she is a top notch professional, was very clear, humorous and provided more information than was required" Bill D.

"Before this class I had no experience with firearms. Needless to say I was a bit nervous. Jessica did an excellent job teaching the class, keeping us safe and giving us the confidence to safely handle a firearm" David G.