STOP BY
TODAY ONLY

FOR THESE ONCE IN A LIFETIME SPECIALS!

For one day only we are featuring space-tacular out of this world deals on ALL off world weapons! Due to high demand though all sales are only while supplies last, and no returns will be accepted.
Save

$750

off a new Morita and $9,999,750 off a new Infinity Gauntlet!
Save 20% off ALL Type 6 and Type 13 lightsabers!
Over-stock Type II Phasers are only $89! *subject to 2 strips of latinum Ferengi commerce authority tax
Atomic Disintigrator's are

$100

off!
https://maxonshooters.com/april-flyer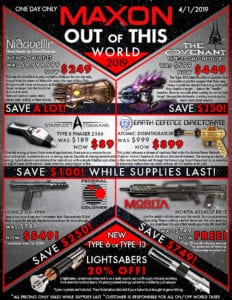 ---
Psst... something else too.
We've hidden a handful of Easter Eggs in our ad for the true fans out there.
The first person to guess 3 correct will win a $100 Maxon Gift Card. That's right. It will FINALLY pay to have ALL that useless geek trivia memorized.
Good luck everyone! You can enter your guesses below, and enter as many times as you like! The winner will be contacted within a week.